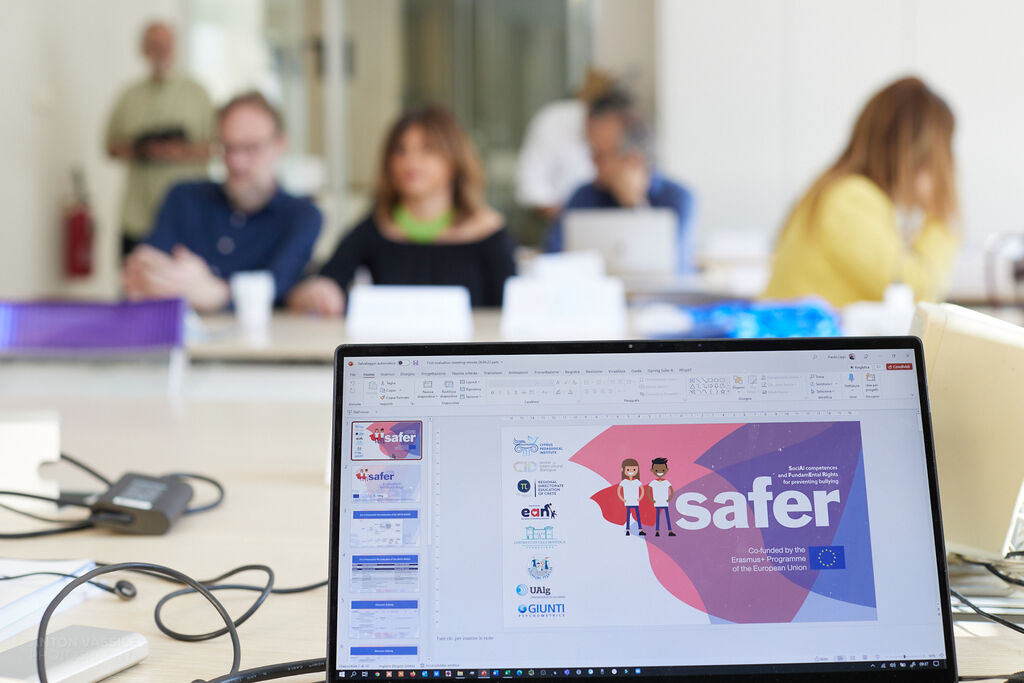 Be the HERO, for reducing the bullying to ZERO
PRESS RELEASE
Florence, May 5th, 2022
Be the HERO, for reducing the bullying to ZERO
The purpose of the SAFER project is to develop and implement an innovative method for preventing school violence and bullying, aimed at fostering inclusive education and based on the enhancement of the acquisition of social and civic competencies and on the knowledge, promotion and ownership of common positive values and fundamental rights, not only at the level of students and schools but also at the level of community.
The SAFER project starts anew in-person activity following the end of the pandemic. The partners met in Florence at the Headquarters of Giunti Psychometrics, the Italian company specialized in psychometry, member of the SAFER consortium.  The project partners took important decisions while enjoying the face-to-face discussion. Indeed it was the first in-person meeting of the 3-year project and participants appreciated being able to have a personal exchange following the end of the restrictions.
In particular, they discussed the impact of the important questionnaire prepared by Giunti in cooperation with the University of Florence addressed to evaluate the climate in the classrooms as a basis of potential situations of crisis. The partners have begun delivering the questionnaires in the European classrooms and the first results are really encouraging in terms of impact. The questionnaire is an occasion for launching a discussion in class about the different dimension of bullying and it was found really useful by the teachers involved so far. The second important point is related to the Toolkit for teachers and students the SAFER project is preparing: at the beginning of the next school year more than 5.000 students and teachers will have a very powerful method that is focused on the involvement of the Community. The whole school and community approach created by SAFER involves not only the school staff, but also the parents and the informal and non-formal educators.
The SAFER project is funded in the framework of Erasmus Key Action 3 "Social inclusion and common values". The Coordinator is Fondazione Hallgarten Franchetti Centro Studi Villa Montesca (FCSVM)  from Italy, while the partners include:
Cyprus Observatory on School Violence (C.O.S.V.) (CY)
Universidade do Algarve UAlg (PT)
Roditeli Association (BG)
Center for Intercultural Dialogue (CID)
Regional Directorate of Primary and Secondary Education of Crete (GR)
European Antibullying Network (BE)
For more information: eansecretariat@antibullying.eu / Tel:  +30 210 36 06 050
EAN was established in 2014 as a result of the respective EU-funded (Daphne III) project and was officially registered in Brussels in March 2015. EAN is an active network of organizations working in and across Europe to combat bullying and school violence. Today it already comprises 23 members from 15 European countries (Bosnia and Herzegovina, Bulgaria, Croatia, Cyprus, Finland, Greece, Hungary, Ireland, Italy, Lithuania, Malta, North Macedonia, Romania, Spain and the UK). The Presidency of the European AntiBullying Network is held by the Greek NGO "The Smile of the Child", which also coordinates the Network and hosts its Secretariat.